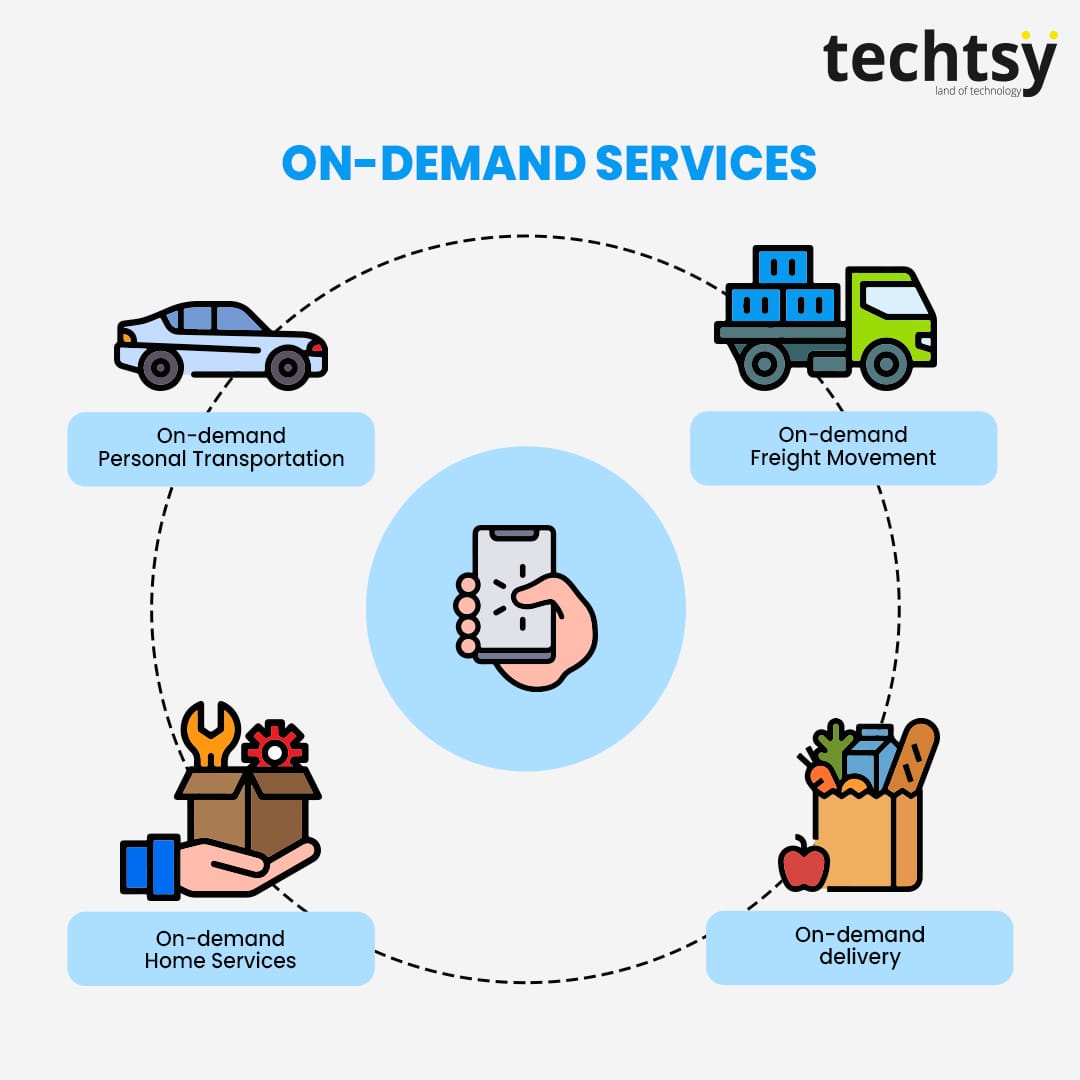 On-demand services are expanding with mobile applications
Introduction
While allowing you the ability to effectively order a service on a tap on your mobile screen,these apps are making the service industry grow at an exponential pace.Changing the way on-demand services are practiced and perceived.
The way it drives propensity of usage and application,it is giving a substantial boost to the on-demand economy with enriched service value,advanced mobility,real-time tracking and digital engagement.
Here,as one of the most penetrating players in the industry.Techtsy's solutions makes this attempt to help you with the insights of different facets of the on-demand service to extend and revolutionize your business with best of solutions in the domain.
Segmenting the on-demand economy into different mobile app based services
Now,these services can be enumerated broadly into 4 different categories that cover different facets,factors,and roles of the on-demand vertical.
The scope of on-demand services is vast and far-reaching.Every service utility or value proposition that can reach you at your end to help you with different tasks and facilities as and when you wish to have them,qualify for an on-demand service facility.
The 4 different Market segments in which you can categorize on-demand services are:
On-demand delivery: Focuses on delivering ordered goods and items at your location.
On-demand Freight Movement: Allowing you to order the movement of any sort of good.
On-demand Transport:Allowing you on-demand pick and drop facility.
On-demand Home Services: Everything from fixing your pipelines to getting your interiors done or allowing you a personal maid.
On-demand delivery
The on-demand delivery segment is the most sought-after service of this vertical-as it involves the broadest variety of goods to be delivered at consumer door-steps.
Further,the traditional businesses that were already functioning on this model have used the online platform as an improvised version of their delivery format.
The top products in the category:
Groceries: both perishable and non-perishable.
Food delivery: ready-to-eat offerings or ready-to-cook deliverables.
Restaurant orders: food parcels at your door-steps.
E-commerce: Clothing,books,stationary, electronics and more.
On-demand transportation
You are offered a transport facility to move from one place to another.On demand,you are picked and dropped from a point to your destination.The best example is cab rental or personal transport service app like Uber.
As this trend gets popular you get to see many versions including self-driven cars,shuttle services and coach options other than just the four-wheeled vehicles.
The top services from the category:
Taxi services: Book.Ride.Pay.All at your comfort!
Car-pooling: Meet co-travelers to accompany you in a personal car and share the cost.
Two and three wheeled vehicles:Cheaper pick and drop options other than cars.
Ride together: Share cab services with others and get driven at cheaper rates.
On-demand Freight movement
This is everything related to automating and optimizing the way things are parceled and relocated.
And this innovative alliance between advanced mobile apps and futuristic shipping resources facilitates several relays and strives to ease routing in order to move cargo and goods seamlessly and serve users most effectively.
Freight movement services can be classified into:
Carrier-shipping matching: Allowing businesses to find appropriate carriers in a matter of few taps.
Algorithmic matching for local freights:Local -freight Algorithm and software based matching for low volume,high mobility good-types.
Algorithmic matching for overseas freights: International-freight services to increase profits and minimize travel time with optimum matching and routing ability.
On-demand home services
This is where innovation strikes the most. These services mark the on-set of an evolved on-demand economy-ingeniously sourcing and translating different home and business services into authentic mobile facilities.
This segment has played an instrumental role in expanding the role of on-demand services across different functional domains and business niches.
Putting it in some broad categories:
Specialization services: Routine repair and maintenance services of specialized equipment including technicians,auto-specialists and repair agents.
Home Upkeep and refurbishment:All sorts of domestic help and professional assistance like home guards,babysitters,gardeners, and interior specialists.
Personal and pet care: Different caretaking services including beauticians,chiropractors,dog walkers,vets and diagnostic services.
On-demand customer satisfaction through mobile apps:
At the core of it,it is all about allowing your customers an enhanced experience and higher level of satisfaction through apps,with whatever service you are offering them. So,you have to bring all the leveraging on-demand ingredients together to help you effectively connect and serve your customers and trigger desired responses to your communication.
So,what exactly are those machineries that keep your app all sourced and affiliated with the latest on-demand offerings?
Looking at the broader picture ,we can place these components into two separate parts:
Current concerns and delivery capabilities with reference to customer:
Locating the customer

Demand and supply matching

Efficiently getting the service to the customer

Going beyond customer expectations
Predictive and post-delivery analysis for performance enhancement:
Sustaining quality and safety standards

Disrupting existing markets
Taking up these points in detail and associating them with the four industry segments would give you a holistic idea of the on-demand scenario.
Locating the customer
When you are all set to deliver your products and services to you customers you need to locate them correctly.This goes right from authenticating the request and validating the customer details and tracking the order right-from dispatching and movement to conferral and closure of the delivery.
To ensure you are doing it all in a commanding and controlled manner and to locate your customers right,you need to appoint a highly responsive and penetrating mapping solutions through your app.This would allow you to effectively trace and process information on customer location and use it to reliably,accurately and adaptively respond to delivery prerequisites.
Here's how to approach it in different on-demand service scenarios:
On-demand delivery:
On-demand personal transportation:Where's the person placed,who has requested the transportation service?
On-demand freight movement: Where does the cargo need to be picked up from?
On-demand home service:Where the home for which the service is demanded is located?
This could be done through a mapping and geocoding software or by opting for Google-based or Map Quest services integrated with the app,to help you locate service destinations using a public dataset.
Here,if you go with additional tools and facilities (for indoor mapping,3D rendering or augmented reality)to help you fetch more detailed and advanced results,make sure you integrate them technologically and keep them served by all necessary supporting events and measures.
With this,when your customers enter an address.you will be able to track them using geo-coordinates and respond to their request by picking on the correct location and attend them in- real time -ensuring accuracy and proficiency at all levels.
To assure best results,optimize the app interface and validate the communication parameters to be able to get the correct information.This can be done by placing powerful triangulation capabilities ,authentication filters and data validators to obtain accurate and precise results.
While getting all this implemented,make sure that your system is able to decisively distinguish between the housing and commercial areas and distinctively sort them into different geographical areas and delivery zones .Most importantly, the software supporting all these processes,interactions and transferences should be highly adaptive and simple to be able to act consistently and responsively in varied situations.
Demand and supply matching
With the mapping solution doing its job right, you are half done. As it accounts for the most crucial operations and elementary tasks to facilitate on-demand services. Now all you need to take care of is the delivery part. Well, to make Sure you are approaching it rignt, you need to keep it all-aligned with your bandwidth of supply and demand- to be effectively able to address and commit to all facets of delivery and customer value proposition.
And most importantly this should be well implemented with all essential analytical, reporting
and processing utilities in place.
HAVE A LOOK AT THE SEGMENT-WISE CONCERN BREAKDOWN:
On-demand delivery
Where Is the store, or the restaurant where the delivery has to be done?
Where Is an ideal delivery agent located, to maximize efficiency in terms of time and cost?
On-demand personal transportation
Where from the nearest request has been placed for personal transportation?
On-demand Freight movement
What is the current location of the delivery options that are most suited to relay the cargo?
On-demand Home services
Where is the closest specialized worker placed,who can optimally address the requested service?
Just like we approach location mapping, demand and supply matching could be facilitated by
geocoding which would let the customer connect with the service in real-time. Let's take the
example of Uber. Here, app users dynamically raise a request for cab services which are
received by the service providers through an algorithmic process that acquires location and
proximity details and accordingly provides matches in real-time with accurate EIAs. This
mobile app solution for demand and supply matching has to be smart enough to respond to
dynamic requests and complex scenarios.
Now, this entire process of intimating the customer and directing the driver to the customer and managing the rides efficiently requires a precise framework of mapping and tracking the requests and supplies — to allow a perfect equivalence between the forces of demand and supply.
In order to control the delivery matrix, your app should be designed to effectively ensure certain availability before mobilizing service providers. Further, it should be able to filter and match hubs or operators to optimally source and disburse information and connect the user with the service in real-time. This needs to be resourcefully complemented with optimal route mapping,integral resource paneling and conditional referencing to be able to effectively determine,process and execute various factors of demand and supply matching.
Getting to the customer
When you are through with a perfect match to effectively aid and attend the demand and supply matrix of your service,you need to extend it further by effectively reaching out to the customer.
How would you be able to do this most resourcefully?
Now, as you have your demand and supply matching strategy in place, you need to devise a
complementing route and target plan. This will require a proper channeling and fine-tuning of
resources with dynamic mapping features, communication parameters, facility validators, and
the overall service model — in reference to the best of functional attributes to facilitate and
simplify the process of getting to the customer.
HERE'S THE LOW-DOWN:
On-demand delivery
What's the most efficient way of aiming all supply locations in the given timeframe?
On-demand personal transportation
What is the quickest route to the customers who demanded the service?
On-demand Freight Movement
Which is the fastest way of reaching out to and transportation the intended cargo?
On-demand Home services
What is the fastest route for the contractor/provider to clear all of their house-specific requirements in the given timeframe?
Now, with this attempt, the whole focus is on letting the service providers reach their customers smoothly and quickly without getting confused with any faulty/erroneous information. To be able to do this you should be allowing your users with an easy and intuitive mapping solution.
This should be all-equipped to automatically interpret the customer routing plan and
optimally execute it to allow seamless reachability for your on-demand service — making It
possible through an interactive mobile app.
While aiming to deliver it right and on time, you need to continue to follow the pre-defined
track that has been achieved by the software resources that laid down and facilitated the
earlier processes. This should also be authorizing and validating all the possible situations
where the delivery might get obstructed due to various Known and unknown reasons. To that,
your software should be providing for the ability and restorability to manage crises.
Alternatively, it should be able to define various leverage points and allow you to optimize different action events and functional properties for your app to help you serve your customers well.With that,the idea remains-you need to effectively connect all the on-demand service dots well in order to create enough assured probabilities to reach and deliver your customers with services in the best way possible.
Going beyond consumers expectations
In the end, it is all about gaining a leading edge in your business and making the most of the customer acquisition and reaching the best of profitability marks. To be able to serve your consumers beyond expectations you need to first be able to answer them on how soon and by what means you will be delivering them the service.Now, here you need to show them how sure you are of providing them with the service. To ensure this you need to have an infallible plan of processing the service request,properly aligned with your delivery approach.Put this along with all supporting features offering them a consistent and prompt solution through your app .While you do this also provide for managing the situation of crises in cases of any mismanagement or uncertainty - taking steps to compensate them with the best of hospitality and commitment,all served with an effective app communication.
Breaking this down into different segments:
On-demand delivery
When will the package be delivered ?
On-demand personal transportation
When will the carrier service be available or when will the transport arrive?
On-demand Freight Movement
When will the consignment reach the proposed terminus?
On-demand Home services
When will the contractor be arriving?
The most important thing you can do to impress your customers to delight is having firm control over tracking. In that respect, the best you can do is validate your customers with order confirmation and delivery acknowledgement. 'Unreliability is accounted as one of the
major reasons for reluctant response from users in the on-demand economy. So, you need to
be very particular about how you attend and serve them and how well you communicate with
them. The more simplified and prompt your process exchanges are, the more they feel
connected and served.
Don't forget, you are operating in a digital landscape where your quality and commitment can
only be determined by how you interface and communicate with your users. To do this most
effectively make sure you set across an effective app platform to establish best of
collaboration and communication. Allow, them with a transparent system to track the status of
the order and let them easily exchange/return the product or claim for refunds, if any such case appears. Also don't forget to let them have complete and accurate information on everything related to the service and send them related updates and reminders from time to time to help them connect with the services seamlessly.
5 ways you can do it most effectively to please them with your on-demand service:
Act now, make them feel prioritized, be customer-friendly, empower them to take decisions,
seek a personal connection.
If you follow all these practices aiming best of quality mark, you will be certainly able to go
beyond your customer expectations with your on-demand app.
Predictive analytics through mobile apps
Predictive Analytics is all about anticipating and visualizing future possibilities assessing the
conditions that are prevailing. It includes comparing and referring to the tendencies and trends that impact and suggest change.
Here, Data Analytics and Business Intelligence prove pivotal to the scheme of acquiring
insights and collating stats to gain a fuller perspective and ascertain the right approach to
address future on-demand service requirements.
Through Predictive Analytics, you also get to realize, outline and furnish different resource
choices and value propositions to achieve best of safety and quality standards along with
optimum asset utilization.
This further involves interpreting and establishing platform utilization patterns and productive
resonance to make a business idea perfectly fit-in with the corresponding on-demand channel.
This also includes the constructing service guidelines and adoption strategy to help business
successfully penetrate against the preconceived notions of how things operate and nelp it
break through inventive and ideal ways to utilize great technology benefits, to claim best of
results in the on-demand sphere.
THIS CAN BE ACHIEVED BY PURSUING THESE PREDICTIVE ANALYTICS PRACTICES
Top-notch maintenance
Quality and Safety are the two major factors that -help your on-demand business reach a recognizable position in the market, claiming the best maintenance aptitude in your niche of service.
This needs to be well-supported and facilitated by a fool-proof system of augmenting performance parameters and mitigating risks at different stages and across different functional vents and communication points. To be able to get the best out of on-demand maintenance, every service parameter needs .To be connected and served well by an expert panel of resources (including request handlers, delivery managers, process validators, quality supervisors and technical support experts). The process is further enhanced by validating and streamlining it by assessing different factors and traits of quality and security through an imposing support optimization matrix — implementing an extensive facilitation program referring to a progressive
demand and supply maintenance index backing up the mobile app solution.
DIFFERENT PERFORMANCE AND SAFETY CONCERNS :
Different Performance And Safety Concerns:
ON-DEMAND DELIVERY
How safe is the delivery process?
How to improve/enhance it?
ON-DEMAND PERSONAL TRANSPORTATION
On-Demand Personal Transportation
How safe are the modes of transport we opt to provide?
How can we maximize customer-to-ride ratio over the day?
How to maximize asset utilization?
ON-DEMAND FREIGHT MOVEMENT
On-Demand Freight Movement
How safe are the cargo carrying vehicles we use?
How to maximize cargo capacity (load size etc.)?
How to maximize asset utilization?
ON-DEMAND HOME SERVICES
On-Demand Home Services
How safe is the transportation process to each destination point?
How to maximize asset utilization?
How to optimize contractor-consumer interactions?
What is Asset Utilization?
Asset Utilization refers to the practice of putting all valuable assets, core resources, and tactical business properties into a process where they can be used the best to churn out most of value and profit. This process is braced by technology across all facets to keep it served with enough information and resources to efficiently deal with different business variables and strategic proponents — to be able to be authentically processed and applied,for users to avail the best of on-demand service.
EXAMPLE:
An on-demand transportation agency will focus on allowing you with finest ability to manage time while optimizing your movement by configuring safety violations and addressing the issues like optimal route mapping, ideal driving speed, managing refueling stops, and best vehicle types — to make it an excellent on-demand transport service experience for your business.
The Technical Assistance:
Mobile technology plays a pivotal role here. All safety parameters are processed and planned through a fool-proof mapping system that verifies and validates traffic violations, height-weight-length restrictions, hazardous or unsafe materials, speed limit based limitations, and incidents on the road. This further includes identifying and assessing different performance parameters like driving speed and patterns to assure and maintain efficient service and on-time delivery.
Disrupting industries
Industry Disruption has a vast technological implication over different industrial and trade factors and the rupture thus created by applying tech-fed resources into the process is quite prominent.Industry Disruption essentially revolves around two factors: Innovation in method and Innovation in technology. Both are efficiently achieved through a mobile app.Industry Disruption and Automation go hand-in-hand to impact on-demand services.Automation, to be precise, is the mechanized technique (which is sometimes also interpreted as a technologically crafted process) of making something work guided by a program and referring to a set of computerized/automated protocols — which requires no manual/external support or intervention to work or operate.
In the industrial age, automation empowers resources and approaches to function most competently in affiliation with the latest equipment and machine-integrated facilities.One of the best examples of this are the ATMs and other tellers.
From manufacturing to selling and from maintenance to optimization, automation impacts every aspect of the on-demand economy by empowering and arriving at different facets and factors of industrial and technological applications. This applies to all trade factors and business segments that integrally define and depict the underlying idea and purpose of on-demand services through mobile apps.
On-demand economy Facts and stats
74% of those who have used on-demand service said they are satisfied with them.
86.5 million americans (42% of adult population have used an on-demand service)
45 million americans (22% of adult population have offered services in on demand services)
51% of those who offered services have acknowledged that their financial situation has improved past years
64% of people offering services for startups in the on-demand economy are under 35 years of age
64% of those who offered on demand services expect to grow financially in coming years
64% of people who have used or provided an on-demand service live in urban areas.
Conclusion
The on-demand economy has splurged into new avenues of possibilities with mobile apps allowing it to commit to better roles, range, and traits of technology and communication. With
superb reach and gripping features blended with the modern science of utility.
Mobile apps are making it big for on-demand services and allowing businesses to nail it with
compelling user-responsive capacities that the mobile technology has to offer.
This e-book attempts to explore and explain the impact of mobile apps on the on-demand economy and the way it is making the domain to steadily grow to serve different industry and
business verticals.
Which apparently brings forth the fact that you need to interweave your on-demand service idea and resources with the mobile app technology to diagnose, excavate and comprehend service expenses and potentials to augment possibilities in the domain.
This can be well achieved by segmenting the on-demand economy into different service segments. And further associating them with different functional components that refer to different proven methods and resource perspectives — to be associated with the mobile technology and serve users with more assured and enhanced on-demand services.
This also identifies the fact that how on-demand apps reveal better cognitive abilities and assure
better interactive possibilities — putting forth leading-edge technological traits that help businesses devise an improved solution that depicts and responds to today's on-demand scenario most authentically. Which further emphasizes on the fact that the on-demand economy has a long way to go with the incessant leverages that mobile technology has to offer.