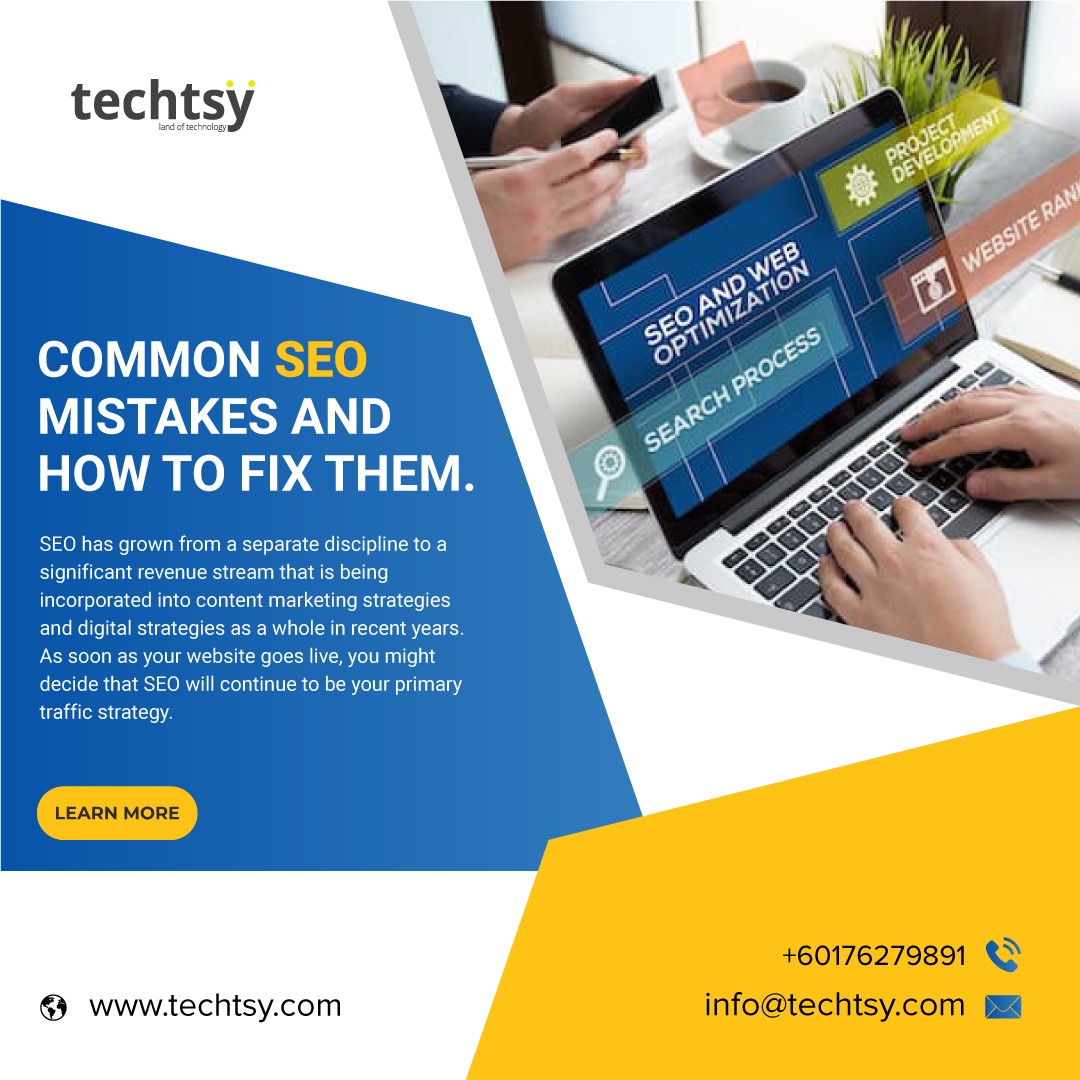 10 SEO mistakes by new websites
Opportunities and demands for SEO are both expanding daily.In addition to the discipline's expansion, the market is expected to reach $1.6 billion in 2027.
SEO has grown from a separate discipline to a significant revenue stream that is being incorporated into content marketing strategies and digital strategies as a whole in recent years.
As soon as your website goes live, you might decide that SEO will continue to be your primary traffic strategy. This means optimizing every aspect of your website in an effort to get a favorable ranking from search engines in order to generate traffic.Therefore, you should begin by conducting research on keywords and selecting a few phrases that are attracting a significant amount of traffic.
You now anticipate that your website will begin to rise in search engine results.And it does, but not as quickly as you'd like.The next step is to begin asking yourself questions to try to understand what's going on or what you might have done wrong.
Fortunately, we've got you covered.You will find ten mistakes that you are likely to make on a new website, along with a possible solution, in this article.

Looking Forward to a Quick Returns
A new website takes time to achieve the desired SEO results.According to Yokellocal, one of the factors that search engines take into consideration when determining a website's ranking is its history.
SEO efforts can be measured between six and nine months after a major push, according to internet marketers.Consider running paid Google PPC ads during the first few months of your website's existence to generate calls while SEO progresses.
Not Knowing Your Audience
Understanding your target audience is one of SEO's fundamental guiding principles.This means getting to know your customers down to the smallest detail.SEO is essentially customer feedback.
SEO can still gain valuable insights into seasonal trends from historical data.However, marketers must use a more comprehensive approach to comprehending their customers.
Marketers ought to think about looking at the market from which consumers typically purchase in order to resolve this issue.Understanding the user is the same as comprehending the market.
Failure to Optimize for The Right Keywords
When you only serve local customers or target keywords that only bring in site visitors looking for free information and not looking to buy anything, it's easy to fall into the trap of optimizing for global keywords.
It's best to be as specific as you can when it comes to SEO.If you succeed, focus on generic keywords that will bring you a lot of traffic.But how much time will it take you, and is that even possible?More specific phrases, which typically result in quicker rankings and more qualified traffic, are sometimes preferable.
Having Duplicate Content
On their websites, both established multinational corporations and start-ups of varying sizes may search for duplicate content and ignore it before posting it.SEO is negatively impacted by duplicate content.That's it, in a nutshell.
What precisely is duplicate content, then?Any form of matching content, pages, or identical product listings across multiple pages are considered duplicate content.According to a Moz study, most people don't intentionally create duplicate content, and up to 29% of the web is actually made up of duplicate content!On the off chance that you frequently observe this to be an issue as you start, there are a large group of counterfeiting instruments online that you can use to check for copied content.Many are free and can be changed or removed from a website.
Not Going For What Converts
It's common for novice SEO practitioners to overlook the importance of converting site visitors as well as free traffic.Watching phrases that bring in traffic and ignoring keywords with low traffic is easy to do.Due to their greater user appeal and specificity, low-traffic keywords frequently have a greater chance of increasing sales.
Utilizing an analytics package to monitor conversion rates for your keyword phrases can help you avoid making this error.After that, you can compare them to one another to determine which one delivers the best results.
Failing to Optimize For Local Search
It is essential to learn as much as you can about local search when starting a business that targets customers in a particular geographic area.Local search is handled slightly differently by most search engines, including Google, than more global keywords.
Start by including keywords that are relevant to your region in your page titles and meta descriptions.Then, to make it easier for people to find you in local search results, you might want to include a physical address and a local phone number on your pages, such as in the header or footer.
Slow Site Speed
If your site is slow, people won't try to access your pages' content, which will cost you valuable traffic.You've put a lot of time and effort into getting traffic from search engines in the beginning, but if the page takes too long to load, all that effort is wasted.
According to Backlinko's research, it takes on average 10.3 seconds to fully load a webpage on a desktop computer and 27.3 seconds on a mobile device.This demonstrates that site speed needs improvement on the majority of websites.To learn more about the speed of your website, you can run your page through Google PageSpeed Insights to see how it performs.
It's important to know how much time passes between when users request access to your website and when it is actually displayed.
Poorly Written Content
Even when the content is fresh, marketers sometimes lack the time to create it for their websites.Using article spinners, software that takes a single article and edits it using various techniques to make it appear like several distinct articles, or hiring low-paid article writers are the two most common methods for creating a large amount of content.
However, this is not a good idea because search engines have become more sophisticated over time.Even if they aren't search engines, people can tell if your content is unique and valuable. If it isn't, your audience won't do anything, and you'll lose their trust.
Not Optimizing For Mobile
The majority of people now use mobile devices rather than computers in a mobile-first world.Perficient found that 68.1% of all website visits came from mobile devices in a 2020 study.
If you want to climb the rankings, mobile-friendly websites will work to your advantage.Your website is also missing out on some of the most cutting-edge design options if you haven't used this feature.
Not Taking Advantage of Great Link Designs
Simply by having a great design, hundreds of Cascading Style Sheets will link to your website.You can also ask blogs that write reviews of excellent website designs for particular industries to include your website on their list.
Although the high-quality links from these websites are unlikely to convert, they will improve your domain authority.
At Techtsy, we have all the necessary SEO services to make your content unique and successful in Search Engine Result Pages.
We can make a great design in high-quality for your website to have a positive impact on your domain authority and definitely will rank well in google ranking Ads