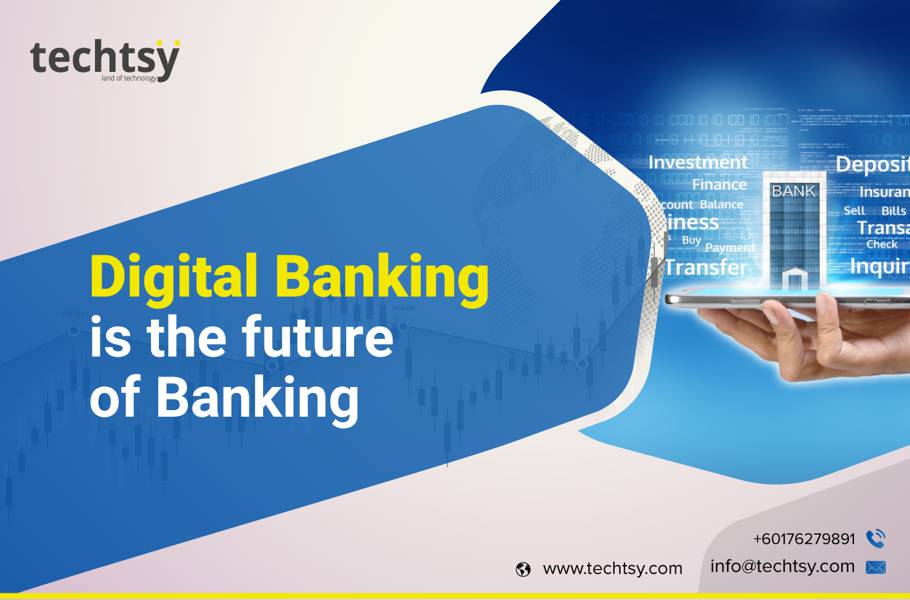 What is Digital Banking?
Online digital banking is the practice of conducting all financial transactions digitally, without the need for paper-based records such as notes, pay with slips, or even checks. This offers users the freedom to perform practically all common banking tasks anytime they wish, without any limitations. Digital banking relies on a high degree of automated processes, including web-based services, blockchain technology, and APIs. This enables businesses to expand their services much more quickly and to improve customer satisfaction to the highest along with its cost-effectiveness while maintaining security and flexibility.
Advantages of Digital Banking
Enhanced Security
Due to technological advancements in digital banking, cyber security challenges are now important, especially regarding consumer data. However, data security can be improved by storing consumer data in an encoded manner. Customers may now instantly change their security options and transaction limits, which can also aid in reducing consumer-level financial fraud.
Customer Service Customization
Digital banking solutions can enable customization based on Artificial Intelligence (AI) and Machine Learning (ML). In order to improve the customer experience, businesses can now offer substantial financial solutions and interactive tools.
Around-the-clock Availability
Consumers can now access the majority of banking services from their homes, places of employment, or even while traveling through digital banking. It is now simpler, faster, and safer to transfer money and make online bill payments, and investments. Services that were necessary to protracted delays are now quick.
Reduced Operating Costs
Digital banking has considerably reduced the operational costs of businesses because it requires nothing in the way of physical equipment and staff. As a result, businesses may now provide services while still charging lower service fees.
Go Digital with Techtsy
The demand for digital banking solutions and services increased dramatically worldwide lately, especially since the COVID-19 pandemic outbreak. Businesses and customers transitioned fast to use digital banking services all around the world. The pandemic led the use of digital banking services to its peak, which greatly enhanced and boost the need for highly secured digital banking platforms.
What Is TechtPay Digital Banking Solution?
TechtPay is an online digital banking solution allowing businesses to launch Web, iOS, and Android applications under their brand smoothly and quickly by utilizing third-party licenses, permissions, certifications, and modular microservices. TechtPay Web, iOS, and Android digital banking application support IBAN/ACH account issuing, SEPA and SWIFT transfers, branded prepaid card issuing, mobile payments, KYC/AML compliance, and more. To date, it is the fastest, most cost-effective, and most secure solution in the existing finance market.
TechtPay Digital Bank Highlighted Functionality & Features
TechtPay is equipped with so many useful features to fulfill all your needs. These features can cover a wide range of industries due to their diversity and flexibility. Some of these features are as below:
Send Request and Load
Multicurrency IBAN/ACH Bank Account
Virtual And Plastic Multi-Currency Debit Card
Card-to-card Transfers
International And Domestic Transfers
Payment Gateway With 180+ Methods
Customizable Interface
Apple Pay Payments
Google Pay Payments
Customizable Fee
Digital Receipts
And much more
What is TechtDataVault Storage?
Simply put, it is a private blockchain operating system (OS) for businesses that offers a very secure setting for data management. And it is specifically designed to support secure communication and management of sensitive data and digital assets in a permission-based, fraud-free, and unhackable environment for Fortune 500 companies, banks, and governments. The foundation of TechtDataVault Storage is patented with multi-decentralization technology, which provides businesses with military-grade protection and eliminates the possibility of data loss. The Data Vault Storage platform complies with PCI DSS guidelines and GDPR and PSD2 criteria.
What is TechtBiometric?
With TechBiometric, it means that passwords are no longer required to log in and access your business's data. Instead, you can maintain your activities using a fingerprint or a face ID. It makes signing in more convenient, enhances login conversion rates, and safely protects your business's data from the compromise of sensitive data.
Benefits of TechtBiometric?
Enhanced Security for Businesses & Users
Businesses can use biometric login and passwordless authentication for both internal access control and security as well as for online customers. In these situations, the biometric login improves user experience, boosts sign-in conversion rates, protects user data against hacking, and shields your business from penalties and fines.
For Banks and Financial Institutions
Biometric login from TechtBiometric enables banks and financial institutions to quickly and efficiently comply with the PSD2 and SCA requirements.