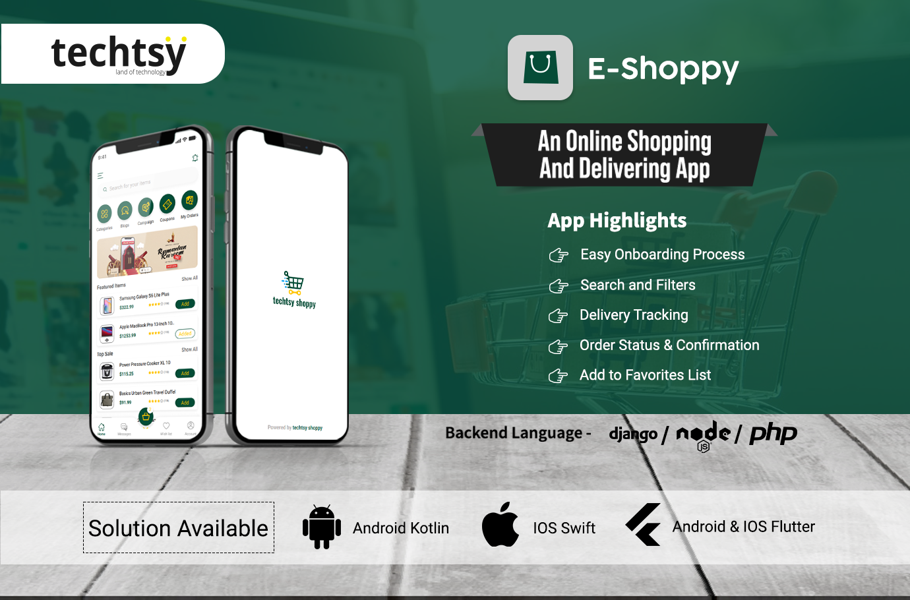 With the advancement of technology, online marketplaces have become the current trend to cater to the demands of consumers. Unlike conventional brick-and-mortar stores, the online marketplace is a cost-effective choice. As a result, the majority of business owners are putting effort into developing realistic and feasible marketplaces for their consumers. Though this business model has been running for decades, Covid-19 has fueled further market growth. Now, most smart business owners are attempting to offer their goods and services online. Moreover, the rise of the e-commerce demand has driven prospective entrepreneurs to launch their own online multi-vendor online shopping marketplace.
The global online shopping market was valued at USD 9.09 trillion in 2019 which is expected to grow at a compound annual growth rate (CAGR) of 14.7% from 2020 to 2027. The COVID-19 pandemic has further resulted in several changes in consumer purchasing habits and increased online sales, bringing the global e-commerce market to $26.7 trillion.
Techtsy's Multi-vendor Marketplace Solution E-Shoppy
E-shoppy is a multi-vendor online marketplace for simplifying your online store. It is a comprehensive marketplace solution with a user app, vendor app, delivery app, admin dashboard, and vendor dashboard integrated with artificial intelligence. With the help of AI features, it can acquire, analyze, and act on customer data.
This comprehensive solution can also handle any issues for customers related to payments, refunds, returns, and replacements. Moreover, it allows you to obtain first-hand data and the constant feedback loop of actionable information by monitoring customer experiences. Furthermore, it includes reports to the dashboard, making it easier for businesses to monitor their finances. The inventory management system in our solution reduces the extra cost of the business and releases the financial burden. E-shoppy also allows entrepreneurs to scale up their businesses with efficiency leading to a better profit margin.
Features:
User App
Signup: Users can sign up using their email address, phone number, or social network account. After completing the signup process, the user can log in to the app and set the profile. The user profile includes the delivery address, profile picture, and other required information.
Search and Filter: This feature allows customers to quickly search, categorize and filter the products. Consumers can search for products by category or keyword. Besides, they can also filter the search by price, name, size, color, the distance between vendors, rating, etc.
Get a top-rated shop list: This feature helps customers to get access to the highest-rated product lists that match their preferences so that they easily make a purchase decision.
List of categories: Users will be able to check the category lists and available products on every seller's page depending on which they can order the product they need.
Add to cart and checkout: Users can add products to the cart, and checkout later. If they don't want to proceed, they can easily remove the product.
Coupons & Loyalty Points: Customers can use their loyalty points and apply promo coupons to get discounts.
Geo-location support: This feature will help users to search where the nearest store is, and where they can view/order items.
Track orders in real-time: Live GPS tracking allows the customer to track their order and delivery agent. This gives an advantage to the customer to exactly understand how long it will take the delivery agent to arrive.
Order Status: Once an order is confirmed and picked up, this feature will notify the customers about the current status of their order such as processed, out for delivery, delivered, etc.
Multiple payment options: In this feature, the customers can pay through multiple options like debit or credit card, e-wallet, bank transfer, or cash on delivery.
Ratings and Reviews: These help to identify high-quality products based on customer feedback, and also provide accountability and quality control for products and services. It has a star rating as well as a text comment.
Vendor App
Receiving orders: Through this feature, the vendor will receive orders from the users.
Accept/Decline/Assign orders: In this feature vendors/sellers can view order lists, assign orders, update order status, and accept and decline orders.
Order history: This module allows sellers to view all orders received in the past and present along with their status. Order history also helps the vendor to measure various statistical data like numbers of active orders, completed orders, and canceled orders.
Update status of orders: The vendor will get an updated status of the order such as whether the product reached the customer or not.
Delivery Boy App
Accept orders: This feature allows the delivery boy to accept orders from the vendor or seller.
Getting delivery details: The feature allows the delivery boy to get all the delivery details such as pickup and drop-off location, delivery time, date, etc.
Map tracking: The delivery boy can use maps to manage the optimal route and path of distribution to the designated customer.
Updating product delivery: With this feature, the delivery boy can update the status of the order.
Admin Panel
Manage all the sellers: It contains all the relevant information about sellers and the admin can manage all the sellers in one place.
Approve and disable seller/user: In this feature, the admin can approve and disable any seller/user. If any inappropriate thing takes place from the seller/user, the admin can directly disable them.
Sales report for all the sellers: Admin can view the sales insights and reports of all the sellers in the platform.
Add new shop: Admin can add a new shop from the admin dashboard with the required information.
Update status of orders: Through this feature, the admin can view reports regarding services and products. Once an order is confirmed and picked up, the seller can notify the customer about the current status of his order like packing the order, out for delivery, delivered, etc.
Set logo, currency, and delivery range: This feature allows the admin to update the logo and preferred currency according to their country. Also, they can set distance so that the delivery can be done within the range.
Chat with all the shop owners: This feature allows chatting directly with shop owners.
Manage Categories: This feature enables the admin to manage categories by adding new ones or removing old ones. Admin will be able to manage all the available stores and then choose from broad categories of services.
Adding and managing courier service: Admin can add courier service and manage scheduling order deliveries, assigning them to couriers, overseeing operations, planning/optimizing routes, overseeing vehicles, managing fuel, and handling courier expense approvals.
Send push notifications to users: Admin can send push notifications about information related to deals, discounts, or any updates.
Reports and Analytics: This helps the user accomplish reporting tasks and get instant reports on sales, customers, coupon usage, inventory levels, etc. Consumers can create custom reports based on rules and filters to find exactly the information they need.
Shop Owner Dashboard
Owners can add multiple products & related info: Shop owners can add multiple products with different sizes, colors, and descriptions of each product.
Item Categories & info are managed: Shop owners can manage the categories and their relevant information.
Order Management: This feature allows sellers to manage their orders. Sellers can update the order status to packed, out for delivery, or completed, from their respective seller panels.
Offers & prices management: In this feature, sellers can manage the price and add different offers that are available in this system to their panels and offers. They can adjust the terms and conditions for offers and discounts.
Chat with customers: In-app chat is a solution to overcome the communication gap between users. Customers and sellers can use this feature to get in touch to solve issues, answer questions, and check special requests, and concerns related to an order.
Access customer details: Shop owners can access all the relevant details of customers through the feature.
Manage working hours: Shop owners can manage the opening and closing times of their shops.
Sales & Earns management: With this feature, sellers can effectively manage transactions by creating shipments, sending shipping articles, accepting refunds, and many more. The vendors can view their earning information and withdraw that money as needed.
Contact Us for More Details
This application is built with Kotlin (Android), Swift (iOS), React (Front End), and Django (Backend).
Based upon request we can provide the solution also in flutter (mobile app) and in node.js (Backend).